Jersey is the largest (118km²) and southernmost of the five Channel Islands and lies on the French side of the English Channel, just 22km from the Normandy Coast. The island is well known for its beautiful countryside and pristine beaches. The population of the island is approximately 90,000, thirty percent of which live in the capital and main financial centre of St Helier.  Financial services make up about sixty percent of Jersey's economy, with tourism, electronic commerce and agriculture making up most of the rest.
Lifestyle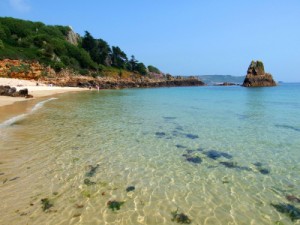 With its unspoiled landscape and unique blend of British and French influences, Jersey really is a stunning place to live.  The cobble stone streets of St Helier are lined with most major UK high street shops. Dining options are endless, ranging from fine dining Michelin-star restaurants through to charming country pubs and beachside cafes.  There are also regular theatre productions, comedy and live music shows along with a 10 cinema multiplex cinema at the Waterfront Centre.
One of the real advantages of working in the Channel Islands is the work/life balance.  Deadlines aside, it is quite rare for lawyers to work past six, meaning there is plenty of time to enjoy a wide variety of outdoor pursuits. Cricket is the most popular sport, although there are plenty of water sports, golf courses and cycling and walking trails to keep most people busy. There is even an 80km network of country 'Green Lanes' which have a speed limit of 24 km/h where walkers, cyclists and horse riders, have right of way.
Whilst most people eventually purchase a second hand car of some description, commuting for most people is a short walk or bike ride across town.  The education and health systems are all of a very high standard.
Principle areas of demand
Corporate/Commercial
Litigation (all practice areas)
Banking/Finance
Investment Funds
Trust/Private Client
Employment
Pensions
Compliance
Work permits
Work permits are not required for UK and EEA passport holders. Commonwealth citizens may be exempt if they qualify for a UK ancestry visa. All other professionals will need to obtain a skilled worker visa to take up employment on the island. If required, firms will apply for these visas on your behalf and they normally take around four weeks to process.
To become 'Jersey qualified', lawyers must wait until they have practiced law on the island for two years and then sit a series of six exams.  Lawyers can however practice law on the island with their existing qualifications. Firms encourage their lawyers down this path and offer full in-house training.
Remuneration
Lawyer salaries in Jersey are comparable with London, although slightly lower than traditional "Magic Circle" rates.  However, this is generally more than offset by the lower tax rate. A 5 year PQE corporate lawyer might expect to receive a starting salary between GBP£75-90K. As a part of the package, Relocation expenses and temporary accommodation are usually included in the package and discretionary annual bonuses are usually paid out.
Income tax is a flat 20%.
Currency is the Jersey Pound which is on parity with the £GBP which is accepted island wide.
Accommodation
Jersey employs a 'three tiered' property market system, with rents and buying costs slightly lower to that found in London.
Locals or people who have lived on the island for a number of years are eligible to buy and rent almost all the available property on the island.
Most firms/companies are allocated a certain number of J-Category licences per year. Firms then pass these on to employees which enable them to rent properties which are normally reserved for the local market or buy from a limited housing stock list. As these licences are limited, normally the more senior you are, the better chance you have of getting one.
All other people rent from the 'open market' stock which is more limited and hence slightly more expensive.
Weather
The Jersey climate is similar to that of southern England, although on average, significantly warmer and sunnier.  In summer (May-Sep), Jersey weather is at its best with blue skies and temperatures often exceeding 25°C. Most of the island's 84cm of annual rainfall occurs in the winter months when daytime temperatures usually hover around 10-15°C.
Travel to/from
Jersey Airport (JER) is located in the parish of St Peter, 7.4km (15 min taxi) from the center of St Helier. From London there are at least 12 flights to the island per day, with journey times less than an hour. Regular scheduled flights also depart from over 25 UK regional airports.
A super efficient ferry service works from Jersey to three English ports and a trip to St Malo in France takes just 75 minutes.
Interesting facts
There is a prehistoric forest buried beneath the surfer's beach at St Ouen's Bay.
Jersey has the second largest tidal range in the world. At low tide the island's surface area increases by a fifth, meaning that boats in harbor rest on the ocean floor at low tide and float again when the tide comes in.
The Channel Islands were the only part of the British Isles occupied by the Germans during World War II.