The Cayman Islands are a British overseas territory located in the western Caribbean Sea, 772km south of Miami and 269km northwest of Jamaica. The territory is made up of three islands, Grand Cayman, Cayman Brac and Little Cayman. Grand Cayman is the largest and most populous of the three, with 55,000 people living on three quarters of the island's 259km² total land mass. The Cayman Islands are reported as being the fifth largest financial centre in the world, making it the largest offshore jurisdiction. Georgetown, the capital city and main business centre, is located on the water, in the south west corner of the island.
Lifestyle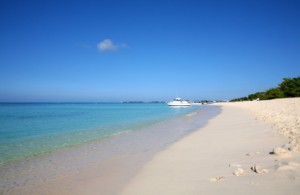 Cayman offers an unparalleled lifestyle and quality of life.  Most of the action happens around 'Seven Mile Beach' and its powder white sand and crystal clear waters. Apart from the world famous scuba diving, snokelling, sailing, jet skiing, fishing, kayaking, parasailing and submarining are also popular. Believe it or not, interacting with stingrays on an idyllic sandbar in the middle of the ocean becomes an almost weekly event for many residents!
From a social standpoint, life in Cayman is suitable for both singles and families. The various sporting leagues (rugby, soccer, golf, tennis, Gaelic , basketball) are very active and are generally the best way of meeting people. There are a large number of restaurants and bars, most with indoor and outdoor seating.  For singles, most nights of the week there are party themed nights, with full moon parties high on most people's social calendar.
Whilst there are buses on select tourist routes, it is actually not that easy to get around without a car. Most professionals purchase a second hand car shortly after arriving. A reliable set of wheels will cost anywhere from US$3000 upwards.  Commutes are short (5-20 mins), traffic is minimal and parking is generally provided for most legal professionals.
Cayman enjoys the highest standard of living in the Caribbean and this is reflected in the island's infrastructure. There are two hospitals, a large number of schools, excellent supermarkets and a wide variety of shops.
Principle areas of demand
Corporate/Commercial
Investment Funds
Commercial Litigation/Insolvency
Banking/Finance
Trust/Private Client
Work permits
All foreigners wishing to work and work in Cayman require a permit.   Lawyers must have a Commonwealth qualification to practice Cayman law but cannot be admitted until they have 3 years post qualified experience.  Spouses can be a dependant on their partner's work permit in order to reside on the island. Unmarried partners however are not permitted to live on the island without a job and work permit of their own.
Remuneration
Whilst varying greatly, Cayman law firms tend to offer slightly higher salaries than other jurisdictions in the region.  A 5 year PQE lawyer may receive a starting salary between US$150-200K as well as health benefits, relocation allowance and temporary accommodation and transport upon arrival.
Income tax is 0%.
Local currency is the Cayman (CI) Dollar which is pegged at CI$1.00=US$1.25. Salaries are paid in USD, which is accepted island wide.
Accommodation
Most people rent when they first arrive but quite a number buy property once settled. Rentals come fully furnished and are generally of a very high standard. Prices vary mainly in relation to the property's proximity to Seven Mile Beach and a general rule of thumb is that a nice place in a good location will rent for approx CI$850-1250per bedroom. I.e. a 2 bedroom apartment with pool and tennis court will be between $1700-2500pm. A luxury apartment right on Seven Mile might cost significantly more.
Weather
The weather in Cayman is tropical, with temperatures varying only slightly throughout the year. The islands experience two distinct seasons. Wet season (summer) runs from June to November where high temperatures range from 28-32°C. December to May is dry season (winter) when temperatures reach 26-29°C.  The weather is pleasant all year round, although winter is the main tourist season due to lower humidity, cooler evenings and rain-free days.  Wet season brings with it a number of tropical downpours and storms, most of which however are short lived. Hurricane activity is greatest around August-October when the water is warmest.
Travel to/from
Owen Roberts Airport (GCM) is the main point of entry although there are a few international flights which fly direct to Cayman Brac. More than 55 flights fly into Cayman each week, with 28 of these arriving from Miami (70 mins).  Cayman Airways is the national airline, flying to 12 destinations in the US, Caribbean and Central America. British Airways has several direct flights a week from London (11 hours), and most major North American carriers offer flights from a number of their east coast hubs.
Interesting facts
On Grand Cayman there is a small area called Hell, named after a grouping of ironshore rock formations which are said to closely resemble its namesake. As there is a post office located directly adjacent to this area, it is possible to actually send a "postcard from hell." Whilst rather gimmicky, to this day it is a popular stop on tourist island tours.
The Cayman Island's number one export item is a rum cake produced by the Tortuga Rum Company, made from a closely guarded 100 year old recipe.
The Blue Iguana or Grand Cayman Iguana is the island's largest native animal, measuring up to 5ft in length. The species is critically endangered and was expected to become extinct before a full time conservation program was introduced.