Hong Kong and its 260 territorial islands are situated on the southeast coast of China (PRC), facing the South China Sea. A British colony since 1842, its sovereignty was transferred to the PRC in the year 1997. Under the agreement, Hong Kong has autonomy to change its own laws until 2047, although China is currently responsible for foreign affairs and protection. Initially there was concern about the hand-over to China, but there have been no adverse events as yet.  The country is still thriving as the largest financial centre of the region and one of the most important worldwide.
Hong Kong is the quintessential 'East meets West', where deep rooted western culture coexists seamlessly within its traditional Oriental heritage. It is perhaps one of the truest capitalist economies in the world, with low taxation and minimal government intervention. The majority of Hong Kong's seven million plus people live in three main territories (Hong Kong Island, Kowloon and the New Territories) and there are more than 250K expats. The central business district is known as Central (or the Central District) and lies on the north shore of Hong Kong Island.  In contrast to mainland China's civil law system, Hong Kong continues to follow the English Common Law tradition established during British rule.
Lifestyle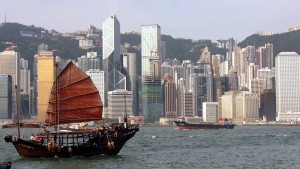 Hong Kong has a 'New York 24/7' feel to it and is arguably one of the most vibrant cities in the world. Professionals work quite long hours but also have plenty of time to enjoy themselves outside the office. The energy of the city is incredible with bars and nightclubs open virtually round the clock.  The choice of shops and restaurants is limitless and many expats join sports clubs which offer a full range of leisure and sporting facilities.
If looking for respite from the hustle and bustle, there are lots of sandy beaches, golf courses and hiking trails through numerous country parks and nature reserves. Despite its skyscraper image, 70% of Hong Kong's land mass is actually made up of forests, rural mountains and outlying islands which are all within easy reach of the main city centre.
Hong Kong has a highly developed transportation network. Over 90% of daily travels (11 million) are made on public transport, making it the highest percentage in the world. The city's rapid transit system (MTR) has 150 stations which serve 3.4 million people a day. Payment can be made using the Octopus smart card, which can also be used on railways, ferries and buses.
Principle areas of demand
Corporate/Commercial
Insolvency/Restructuring
Banking/Finance
Investment Funds
Litigation
Project Finance
Hong Kong has long been the main financial centre of Asia. Its free market and low taxation has attracted most major international law firms and banks to its shores. The demand for top international legal talent remains high, with both private practice and in-house opportunities available. Chinese language skills are often required, but not exclusively so.
Work permits
Any non-resident wanting to work in Hong Kong will need to be sponsored by an employer, who will apply for the work permit. For qualified legal professionals, the application process takes around 6 weeks but is usually just a formality. Legal spouses and children will be issued dependent visas. Generally, spouses are allowed to work but it is worth looking into this at the relevant time as this rule has been known to change from time to time.
Remuneration
Whilst the 'all-inclusive' packages of yesteryear are no longer offered, salaries remain generously high and come with full health and life insurance, relocation compensation and temporary accommodation upon arrival. Contact us for an idea as to starting salary levels as these fluctuate massively between the international firms and organizations.
Income tax is calculated on a sliding scale but is capped at 16%.
Currency is Hong Kong Dollar and is pegged at USD$1.00=HK$7.75.
Accommodation

We always advise candidates to take out a short term rental when they first arrive so they can get a feel for the city and determine which district they want to live in. Most expats live on Hong Kong Island and the price of renting is usually calculated directly in relation to property square footage. Roughly speaking, a nice 1000sq ft apartment in a good area will cost around HK$40000 per month.  You may be able to rent a serviced apartment or a long stay hotel room when you first arrive for considerably less, giving you time to find your feet.
Expats can buy property without restriction and there is a vast array of properties to choose from.  General rule is not to buy unless you plan on being there for 4 years plus, however, like the rental market there are all sorts of hidden gems which may make the investment worthwhile for a shorter term.
Weather
Despite having a sub-tropical climate, Hong Kong experiences four distinct seasons.
Autumn (Sep-Dec) is widely regarded as the best months of the year. Pleasant breezes, plentiful sunshine and comfortable temperatures are the norm. High temperatures range from 23-28°C during this period and there is minimal rainfall.
Winter (Jan to Mar) is the coolest season, with average high temperatures around 18°C.  This period remains relatively mild with little rain, although occasional cold fronts can see temperatures drop temporarily.
Spring (Mar to Apr) is very pleasant, bringing mainly clear, warm days. High temperatures range from 19-27°C and there are occasional thunderstorms and spells of high humidity as summer approaches.
Summer (May to Aug) is hot and humid with occasional showers and thunderstorms, particularly during the mornings. Afternoon temperatures often reach 31-35° C, and at night, temperatures remain around 26°C with high humidity.
Travel to/from
Being a major international travel hub, Hong Kong International Airport (HKG) is serviced by more than 90 airlines and is the 12th busiest airport worldwide.  The airport is located on Chek Lap Kok Island and is known locally as Chek Lap Kok Airport. Cathay Pacific is the national flag carrier, although there are a number of other smaller, local airlines which fly regionally.
A taxi from Central on Hong Kong Island to the airport will take 30-40mins and cost around HK$350 (USD$45). The MTR runs an airport express line which takes just 23mins and costs HK$100 one way.
Interesting facts
The words 'Hong Kong' translate literally to mean "fragrant harbor".  The name originates from the area around present day Aberdeen on Hong Kong Island where fragrant wood products and incense were once traded.
Hong Kong has more Rolls Royce's per person than any other city in the world.
Hong Kong has the most skyscrapers in the world. Classified as buildings with more than 14 floors, Hong Kong has around 8000, almost double that of New York its nearest rival.