Dubai is one of the seven emirates of the United Arab Emirates (UAE) and is located along the south west coast of the Arabian Gulf on the Arabian Peninsula. It is the second largest (4114km²) and most populated of the emirates with more than 2 million people living there. Dubai itself lies on the calm, blue waters of the gulf and is surrounded by desert. Dubai Creek, a natural inlet from the gulf divides the city into the Deira district to its north and Bur Dubai to the south.
By committing to liberal, free and balanced market policies, Dubai long ago emerged as the 'Gateway to the Middle East', attracting both national and foreign investment in almost every sphere of economic activity.  Although there has been a large influx of international law firms and banks in recent years, many have been practicing in Dubai for over 25 years. Whilst the official language is Arabic, English is widely understood and ranks alongside Arabic as the language of commerce.
Lifestyle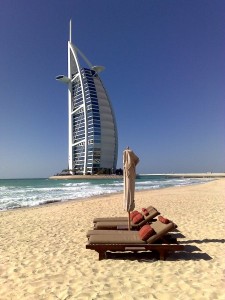 The ultimate home of sand, sun and shopping, Dubai offers expats a relaxed and pleasant lifestyle.  The city is clean, apartments and villas are modern and spacious and there is virtually no crime. Being heavily geared towards tourism and the massive expat population (85% of total residents), there is a limitless amount to do and get involved in.
Most expats take advantage of the luxurious facilities of the various sports clubs and there are activities and social groups covering pretty much every hobby or interest known to man.  Deep sea fishing, sailing windsurfing scuba diving and waterskiing are the main water sports, whilst less conventional activities such as sand skiing, desert duning, motor racing, horse and camel riding and racing are also popular.
Dubai is a shopping mecca, offering unbeatable duty free prices on every product and label imaginable. There are a vast number of high quality restaurants to choose from and there is an excellent bar and nightclub scene. Theatre, ballet, opera and music concerts are also enjoyed throughout the year, with many international acts regularly touring the region.
It is essential to have a car as Dubai is a spacious city with most residences situated some distance from shops, schools and the office.  All models of car are readily available and there is an active second-hand market. Taxis are the main means of public transport as they are cheap and plentiful in number. Dubai has many well equipped public and private hospitals offering high quality health services and there are a number of schools which teach an English curriculum.
Principle areas of demand
Corporate/Commercial
Litigation
Project Finance
Commercial Property/Construction
Energy
Banking/Finance
Most opportunities are within private practice firms.  Whilst Arabic language skills are generally not a pre-requisite, they are in high demand, especially in the growing litigation teams.
Work permits
All foreigners wishing to work and reside in Dubai require a work visa. Employers make the applications and for legal professionals this process is relatively quick and usually a simple formality.  Once the work visa has been approved, an application for a residence visa is lodged which is valid for 3 years and easily renewable. Evidence of residence in Dubai (rental agreement) will be required and this visa allows you then to sponsor any dependants.
Remuneration
Salary levels vary between the many firms, however most are somewhat guided by salaries in London and the US.  Generally speaking, top firms may offer a gross salary slightly higher than the equivalent city rates and other firms slightly less. With zero income tax and cost of living approximately 25% less than London, professionals find themselves much better off financially. Included in most packages is health and life insurance, relocation expenses and temporary accommodation and transport upon arrival.
Income tax is 0%.
Local currency is the Dirham (symbol DHs or AED) which is pegged at USD$1.00=DHs3.6725.
Accommodation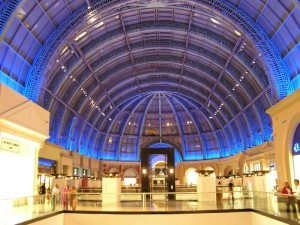 Most expats rent their housing in Dubai, however property ownership in the last few years has increased since the Dubai Government lifted restrictions on purchasing by foreigners.  The most popular residential areas with westerners are Jumeirah, Umm Suquiem and Safa.
To rent property in Dubai, you will generally be asked to pay a whole year's rent up-front, or with up to four post-dated cheques. The main housing options in Dubai are apartments and villas, many in compounds with communal swimming pool and other leisure facilities. Most properties are rented out unfurnished, but furnished accommodation can also be found.  Typical annual rental costs are approximately Dhs 70,000 for an unfurnished apartment, and between Dhs 140,000 to Dhs 280,000 for a 3-bedroom villa, depending on quality, location and facilities.
For those wishing to buy, property sells for around USD$1000 per square meter. Property owners automatically receive a renewable residence permit for themselves and their dependents, allowing them to work in Dubai indefinitely.
Weather
Dubai has a dry, sub-tropical climate with abundant sunshine and blue skies virtually 365 days a year. Summers are exceptionally hot (May-Oct), whilst winters (Nov-Apr) are relatively mild and extremely pleasant. Between the seasons, average daily maximums range from 24°C in January, to 41°C in July. On average, rain falls only five days a year.
Travel to/from
Dubai International Airport (DXB) recently ranked as the 17th busiest airport in the world (6th busiest in terms of international travel) with over 30 million people travelling to or through each year. It is served by over 100 airlines, connecting to more than 140 destinations. The airport is located 5km south-east of the city, about 10 minutes in light traffic, although the airport roads can get very busy at peak times. Award winning Emirates Airlines is the national carrier.
Interesting facts
You will never have to work on Fridays. Unfortunately however the working week is still 5 days as it runs from Sunday to Thursday.
Revenues from the oil industry now contribute less than 6 percent to the economy of Dubai.
There are no street names in Dubai.
In the Dubai Emirates Mall it is possible to ski indoors whilst shopping.