Gibraltar is a British overseas territory, linked by a narrow strip of land to the most southerly point of Spain. It overlooks the Straits of Gibraltar and sits at the entrance to the Mediterranean. The territory covers just 6.543 square kilometers, has a population of around 30,000 people and has 12 km of beautiful shoreline. There are two coasts (sides) of Gibraltar – the East Side which contains the settlements of Sandy Bay and Catalan Bay and the West Side where the vast majority of the population lives.
The world famous 'Rock of Gibraltar' is made of limestone and is 426 meters (1,400 ft) high. A cable car carries people to the summit and there are numerous hiking trails for the more adventurous. Main Street has remained the hub of business and commerce and is lined with attractive Italian style buildings. The street was recently pedestrianised so that it is no longer open to traffic. Gibraltar is self-governing with the finance, shipping and tourism sectors each contributing approximately 25%-30% of GDP. The legal system is based on English common law and there are more lawyers per capita than anywhere in the world, all of which are UK qualified.
Lifestyle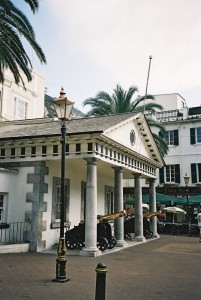 Professionals in Gibraltar enjoy an enviable work/life balance and once settled have access to a lively social scene with numerous opportunities to join various clubs and associations. Sailing is a favourite pastime of many locals and there are more than 30 shipwrecks for scuba divers to explore. Also, with 300 plus days of sunshine there is plenty of beach time to be had. There are many restaurants, cafes and pubs to choose from, most of which are within easy walking distance of each other.
Within Gibraltar, cars are the main form of transport. Motorbikes are popular and there is a good modern bus service. Unlike in other British territories, traffic drives on the right, as the territory shares a land border with Spain. Gibraltar is family friendly with schools operating on the UK curriculum and exam structure. They have a good reputation, and are freely available to Gibraltar residents. There is also a fee-paying English-based international school nearby in Spain.
Principle areas of demand
Corporate/Commercial
Investment Funds
Litigation
Trust/Private Client
Corporate Finance
Shipping
Residential and Commercial Property
Work permits
Only local Gibraltarians and British citizens are freely allowed to live and work in Gibraltar without a residence permit. Nationals from other EU countries are issued residence permits upon providing proof that they will not become a burden to the state. After staying for more than 6 months they can apply for a 5 year renewable work permit.  Non-EU professionals can take up employment , however subsequent permits are only granted if proven that no Gibraltarian, Brit or EU citizen is able or willing to do their job. In the legal field, this means that firms will generally look to hire UK/EU lawyers in the first instance.
Remuneration
Salary structures vary greatly between firms, with many offering commission on top of base salary. Candidates have actually been known to earn more in commission than salary.  As a guide, a 6 year PQE lawyer may receive a starting base salary of around £70K as well as a relocation allowance, health benefits and temporary accommodation and transport upon arrival.
There are two different income tax structures to choose from, the simplest being a rate of 20% on the first £25,000 and then 29% on earnings up to £100K.
Local currency is the Gibraltar Pound (£GIP) which is pegged to the British Pound (£GBP). Euros are also widely accepted.
Accommodation
Although recent times have seen an increase in the number of residential apartment developments, the rental market remains quite tight. Fortunately firms are generally very helpful when it comes to helping new employees settle in and usually have their finger on the pulse in regards to the property market. Even so, manageable commutes to lower rents mean that about 50% of professionals working in Gibraltar choose to live across the border in a number of nearby Spanish towns. It is obviously possible to buy property in either Gibraltar or Spain.
Weather
Gibraltar's climate is temperate and overall very pleasant. 'The Rock' enjoys 10.5 hours of sunshine during the summer months (Jun-Sep) with temperatures averaging 23-31°C. During this period it is not uncommon to experience 90 days straight without rain. Winter (Dec-Mar) can be a mixture of fine, wet and cool weather with a temperatures range of 15-18°C. Temperatures however rarely drop below 13°C and only 30% of days are classified as 'wet'.  The hottest month is August whilst the coldest is January.
Travel to/from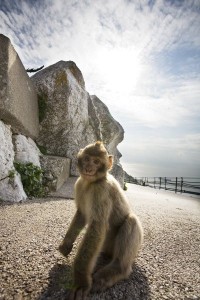 Gibraltar Airport (GIB) has the distinction of being the world's closest airport to the city that it serves, being only 500 meters from Gibraltar's city centre. The runway actually intersects one of the main streets requiring movable barricades to close when aircraft land or depart! This will stop when the new airport terminal building is complete.
Monarch flies from Luton twice daily (2½ hours) and from Manchester (3 hours) four times a week. British Airways also has two flights a day to and from Gatwick (2½hours). A 1½ hour drive up the freeway, Malaga Airport (AGP) offers regular flights to a number of international destinations, as well as links to many other regional airports in the UK.
Interesting facts
Gibraltar is home to a thriving population (approx 230) of Barbary Macaque monkeys, the last in the whole of Europe. Legend says that should they ever leave or become extinct then Gibraltar would cease to be British. The legend was taken very seriously , so much so that the British army used to be responsible for the feeding and care of the monkeys.  That responsibility has now reverted back to the Gibraltar Government.
The origin of speaking "gibberish" comes from Gibraltar. Residents frequently converse in Spanish and English, often starting a sentence in Spanish and switching to English halfway through, making it difficult for non-locals to follow.